R30 wandrail
Voorheen hadden galerieën, winkels, kunstuitleencentra en andere altijd het probleem; of een zware J-rail monteren voor de zwaardere werken OF een variant op de cliprail om  de wat lichtere werken op te hangen!? Met de R30 rail hoeft u niet te kiezen! Het is een combinatie van beide type rail en met de ze rail kun je de meerdere typen koorden/stangen gebruiken.
50kg

200-300cm

Flexibel ophangen

Wit, Zilver

35x12 mm
Unieke kenmerken R30:
Slechts 35mm. x 11,7mm. (HxD)

Sterk, 50kg per m1

Mogelijk clips schuin te boren tot +/- 15-20 graden en TOCH te monteren!

Mogelijkheid om strak tegen het plafond aan te monteren

Geen zichtbare uiteinde van de perlon/staalhangers uit de rail

Makkelijk en licht te installeren, dankzij de flexibele clip.

Overschilderbaar met standaard Latex zonder de rail voor te behandelen, dankzij unieke poedercoat

5 jaar garantie

NEWLY clip is tevens railverbinder (gebruik 4 clips per meter)

Dankzij de gratis bijgeleverde boormail, altijd de juiste montage hoogte.

Mogelijkheid om zowel stangen alsmede de diverse koorden te gebruiken
Technische informatie
Aluminium extrusie

Speciale (overschilderbare) poedercoating finish

RAL 9016 (wit) of geadoniseerd (zilver)

35mm. x 11,7mm.

Leverbaar in lengtes van 2 of 3 meter

Individueel verpakt (seal) daardoor minder kans op beschadigingen e.d.

227gr. aluminium per meter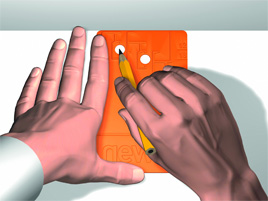 1.
Installing tight to the ceiling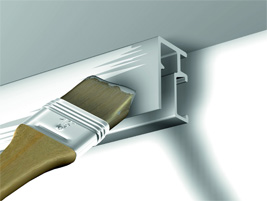 2.
Re-paintable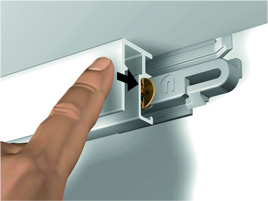 3.
Easy one touch installation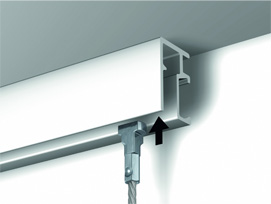 4.
Hanging in any position into the rail
5.
Invisible hanging of the Twister head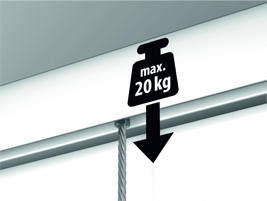 6.
Invisible hanging of the Twister head